Before You Blame Your Subordinate
Dalam banyak khazanah di dalam people development khususnya di lingkungan kerja, sering terwacanakan, sebuah tuturan mulia,"Stop Blaming Your Boss". Mungkin tuturan ini terinspirasi oleh adagium " Boss Always Right, If the Boss Does Wrong, Remember…bla bla…".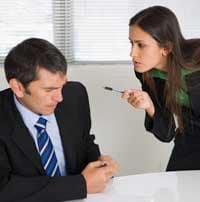 Suatu ketika, saya memiliki atasan yang moody. Kami sebagai tikus -tikus kecil senantiasa was-was hari ke hari, dari jam demi jam, sibuk memperhatikan raut muka atasan tersebut.
Pagi-pagi, bila beliau masuk ke kantor dan tersenyum menyapa receptionist kami, "Pagi", dengan senyum sumringah, dan lalu menengok ke ruangan saya "Pagi , Pak Bowo…". Duh senangnya hati ini…. Dan efeknya saya siap maju tak gentar menghadapi hari saya dengan gemilang, dan sungguh, selalu mendapatkan kemajuan di penutupan jam kantor.
Tapi bila beliau masuk ke kantor, pasang wajah "jutek" langsung menuju bergegas ke ruangannya tanpa ada sapaan " Pagi…..". yang khas itu, kita sibuk berkata dalam hati "Duh..apa lagiiii ini….".
Belum lagi bila di meeting yang dilakukan adalah sebuah hafalan pertanyaan," Kurang apa lagi kita mensupport, dan berkalimat yang sering kali justru kami para tikus tikus kecil ini bingung ,"Wah ngomong apa……ini, mau ngomong takut memalukan beliau di depan Owner yang dengan setia menginfus operational cost padahal sudah lebih dari 2 tahun berjalan, bisnis tersebut stuck dan tidak jalan dan bongkar pasang personil serta General Manager.
Sering pula, dalam meeting penting, beliau meminta masukan, tetapi pada saat dijalankan rencana sesuai dengan meeting, tau-tau diambil keputusan yang sama sekali berbeda dengan apa yang telah disepakati demi "hospitality" terhadap Owner yang tumpek blek berusaha professional dengan hanya melulu mendengarkan laporan beliau si atasan .
Hasilnya….. sungguh aneh tapi nyata, Owner tetap memberi infus tanpa tahu kapan mendekati Break Event, Sales Division jelas jadi tumpahan dan sorotan se- holding…ehehehe.
Bila dalam sebuah bisnis ada stagnasi, bagian sales yang jeblok, di upper cut, di swing kiri kanan, presentasi target hanyalah karya 'Khairil Anwar" alias mengarang bebas.
Okey…intinya gini…. There are wide possibilities, hal ini dipengaruhi oleh aspek Corporate Emotion….wah makanan apa itu?
Dalam buku Daniel Goleman , Primal Leadership, dikatakan bahwa, emosi pemimpin, mempengaruhi kinerja organisasi.
Emosi menyebar seperti virus, tetapi tidak semua emosi bisa menyebar dengan sama mudahnya. Sebuah kajian di Yale University menemukan bahwa, emosi yang paling mudah menyebar adalah kegembiraan dan kehangatan. Dan yang hampir tidak menyebar sama sekali adalah emosi seperti mudah tersinggung, depresi, dan emosi racun lainnya.
Emosi sangat intens singkat, dan kadang bersifat merusak suasana. Meskipun dari sudut pandang bisnis, emosi dan suasana hati tampak tidak penting, tetapi keduanya mempunyai konsekuensi nyata dalam penyelesaian pekerjaan.
Nah melanjutkan Corporate Emotion tadi, mungkin bisa digambarkan sebagai berikut :
Karyawan yang merasa senang ketika bekerja, akan lebih bsia menyenangkan pelanggan ekternal dan internal, dan bisa meniakkan laba. Menurut Benyamin Scheined dari Maryland University, untuk setiap satu persen perbaikan suasana pelayanan, terjadi dua persen peningkatan pendapatan….. ini gila..loh….bayangkan bila suasana ini berkesinambungan…. Berapa persen growth revenue Anda?
Mungkin semakin tinggi tuntutan emosi pekerjaan, pemimpin semakin perlu bersikap empatik dan supportif.
Nah teman saya mengatakan, loh, bagaimana bila atasan kita perempuan, bukankah, seorang wanita lebih menggunakan perasaan daripada rasio?
Saya menjawab," Itu kan nurut sampeyan…. He he he". Paradigma tersebut terlanjur jadi jargon dan jadi thesis. Bagaimana kalau kita melihat hal gender tersebut sebagai berikut:
"Pemimpin tidak mengenal gender, demikian juga emosi dan rasio!"
Lelaki atau perempuan sama sama punya rasio, dan perasaan, yang fungsinya menjadi elemen penyeimbang dalam kehidupan ini.
Toh ada banyak dimana seorang machoist diam diam menyanyi lagu cinta mendayu…..atau menulis barisan kalimat penuh kepedihan ? Dan di sisi lain, seorang ibu mengamen dari metromini ke yang lain , tanpa malu-malu. Ini bukan masalah kepepet, ini rasionya jalan, bahwa untuk makan perlu cari uang.
Jadi bila ada hal yang dirasakan kurang jalan di tataran staff, mari kita melihat diri sendiri dan seksama. Bila kita sebagai seorang pemimpin entah itu karena leading by person, atau leading by position, entah leading by performance…(walah ternyata bisa juga ya dipake system 3P), ada baiknya kita mampu mengukur tingkat emosi kita di dalam pekerjaan sehari-hari. Ada baiknya belajar mengendalikan tingkat emosi baik itu emosi positif maupun negative, ada teknik gampangnya kok.
Nanti kita belajar bersama – sama bagaimana cara mengukur emosi kita dan mengendalikan si emosi tadi. Mungkin sambil ngobrol dalam suasana persahabatan sambil ngopi-ngopi.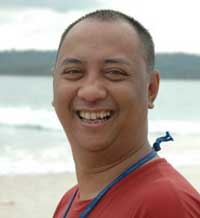 Ayok B Witoyo Ak. MBA, M.Si, Lulusan Sekolah Tinggi Akuntansi Negara Jakarta, Pasca Sarjana Master of Business Administration dari University of South Australia, dan Master of Science di bidang ilmu keuangan dari de LaSalle University Manila, Phillipines, serta Master Black Belt Six Sigma dari universitas yang sama.
Berbagai pengalaman bekerja di berbagai sektor telah dilaluinya, baik sektor informal marginal sebagai penjual nasi kuning keliling dan tukang nasi goreng pinggir jalan (sebagaimana diakuinya), dan di sektor formal untuk bidang keuangan, marketing, dan pengembangan SDM.
Institusi tempat beliau pernah bekerja diantaranya British Council, Informatics Holding Singapore, Ernst & Young, dan director PT. Bali Timeshare Indonesia. Saat ini beliau aktif sebagai trainer dan menjabat sebagai Director sebuah konsultan manajemen yang berpusat di Jakarta