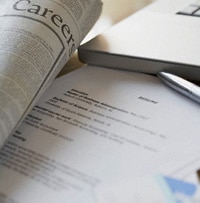 Bagi kebanyakan lulusan S1 maupun S2 pekerjaan setelah atau bahkan sesaat sebelum lulus adalah melamar pekerjaan. Nah…saat-saat ini seringkali menjadi saat yang paling mendebarkan, penuh harap-harap cemas. Cemas karena takut sulit medapat pekerjaan maupun cemas karena melihat kawan kita dalam seminggu sudah mengirimkan lamaran ke 36 alamat.
Dalam melamar pekerjaan pasti kita diminta membuat resume atau Curriculum Vitae (CV). Disinilah seringkali timbul dalam benak kita : "Gimana sih CV yang bener…? atau Seperti apa yah… CV yang bagus…..?". Melalui kolom singkat ini saya akan sharing pengalaman bekerja sebagai staff rekrutmen yang sering membaca CV orang lain dan pengalaman ketika menulis CV saya sendiri.
Tujuan membuat Curriculum Vitae / Resume
Paradigma dalam membuat resume bagi kebanyakan fresh graduate adalah untuk mendapat pekerjaan. Paradigma ini tidak salah tetapi kalau kita menggesernya menjadi untuk dipanggil wawancara atau seleksi maka seluruh usaha kita akan fokus pada bagaimana supaya kita out of the crowd diantara berjibunnya pelamar untuk suatu posisi di sebuah perusahaan. Fokus pada untuk dipanggil wawancara atau seleksi akan membawa kita kepada usaha-usaha kreatif dan sistematis agar kita (lebih tepatnya resume kita) dapat membuat prospective employer (calon pemberi kerja) sangat ingin "mengenal kita lebih jauh" yang akan berujung dengan telepon atau surat panggilan untuk wawancara atau ikut seleksi. Jadi sejak awal membuat CV atau Resume buang jauh-jauh pikiran mendapat pekerjaan. Fokuslah pada bagaimana usaha kita untuk membuat employer tertarik akan diri kita. Ingat…bahwa representasi diri kita hanya diwakili oleh 1 atau 2 lembar kertas dan kata-kata sementara tidak jarang satu posisi dilamar oleh lebih dari seribu orang.
CV yang bagus
Seperti apakah CV yang bagus. Format bakunya mungkin tidak ada, tetapi yang jelas CV yang bagus haruslah menarik perhatian, menimbulkan impresi yang bagus, menunjukkan pengalaman dan keterampilan yang relevan. Oleh karenanya Anda harus lakukan segala upaya untuk menimbulkan hal tersebut diatas.
Sebagai misal pilihlah jenis kertas yang baik dan sesuaikan dengan karakter pekerjaan yang dilamar serta budaya perusahaannya. Contohnya jangan sekali-kali menggunakan kertas wangi berwarna ungu muda untuk posisi-posisi seperti akuntan di sebuah consultant firm yang terkenal budayanya sangat formal. Sebaliknya mungkin Anda bisa kreatif menggunakan kertas jenis tertentu dalam usaha out of the crowd untuk melamar sebuah posisi di Ad agency.
Jangan lupa luangkan waktu untuk mengecek ejaan. CV yang anda buat harus 100 % bebas kesalahan eja. Ingat CV merepresentasikan diri Anda jangan, sampai timbul impresi yang kurang baik tentang diri anda hanya karena masalah ketelitian atau kerapian. Hal ini sepele seperti ini sangat merugikan.
Kreatif
Ingatlah tujuan membuat CV adalah agar kita dipanggil untuk wawancara atau seleksi. Jadi gunakan kreativitas anda untuk out of the crowd. Buatlah diri anda menonjol dan diingat dengan impresi positif oleh bagian HRD-nya. Sebuah kertas yang dilipat dengan cara unik berwarna krem muda dengan kertas yang berkualitas tentunya akan sangat menarik perhatian diantara tumpukan seribu kertas HVS 80 gram putih ukuran A4.
Berempatilah terhadap petugas seleksi yang harus membaca ribuan surat. Bayangkanlah kejenuhan mereka kalo melihat yang itu-itu saja, membaca yang begitu-begitu saja. (saya pernah gunakan format berbeda–seperti surat biasa dalam amplop biasa-untuk "menipu" bagian seleksi agar aplikasi saya dapat langsung dibaca oleh user). Gunakanlah kreativitas Anda untuk memberi impresi positif sekaligus membuat Anda menjadi berbeda diantara ratusan atau ribuan pelamar lainnya dan mendorong HRD atau user bernafsu untuk segera bertemu dengan Anda.
Sederhana dan Jelas
Kebanyakan para staf seleksi maupun user tidak punya banyak waktu untuk membaca CV. Jadi kalau Anda membuatnya secara jelas, ringkas dan sederhana itu akan memudahkan mereka sekaligus menguntungkan Anda karena mereka bisa mendapatkan gambaran diri Anda secara lebih lengkap. Berilah gambaran keterangan singkat mengenai apa yang anda lakukan dan sebagai apa Anda. Berikut ini saya contohkan sebagian CV saya (ini sekadar contoh lho… tidak harus seperti ini) :
EMPLOYMENT
Self Employee. Jan. '08 – …
§ Web Development & Interner Marketing Consultant
Gather information to fulfill client need in web development, web promotion and internet campaign.
§ Training Facilitator
Designing and Facilitating training as Chief Instructor or Co-facilitator in broad range of topics in management area, mostly delivered by experiential learning approach, individually or as an associate in Asia Resourcing, Kodingsoft, and other consulting firm
§ Research
Develop and Conduct HR survey , HR Audit, and Customer Satisfaction Survey in Marketing. Lead Focused Group Discussion as moderator. Has extensive capability in statistics (univariate & multivariate analysis).
§ Consulting
Help Clients in Workload Analysis, Employee Assessment, Executive placement, Job Development, Organizational Development, System Improvement, Competency Development Model and Competency Based Training, Human Resources Management, etc.
Permanent Employee (1999 – 2007)
PT ……
Dengan format seperti diatas maka saya dapat membuatnya hanya menjadi 1 halaman saja. Beberapa orang dengan pengalaman lebih dari 10 tahun dan memiliki karir yang bagus bahkan juga memiliki hanya 1 lembar CV saja.
Kontroversi:
Sering muncul ada yang bertanya: Membuat CV harus ringkas atau justru sedetail mungkin?

Walau banyak yang menyarankan CV harus ringkas, mungkin ada benarnya juga. Seperti dijelaskan di atas staff recruitment perlu tahu siapa kita dalam waktu singkat. Tapi sebaliknya jika CV dari HRD sudah sampai ke User (Bagian /Departement/Manajer tempat kita akan bekerja) yang akan , mereka biasanya membutuhkan info lebih lanjut tentang diri kita, terutama tentang detail pekerjaan yang pernah kita lakukan di setiap perkerjaan / posisi kita di masa lalu. Karena sering sekali nama jabatan tertentu akan mempunyai detail pekerjaan yang berbeda, untuk setiap perusahaan yang berbeda, dan user ingin tahu lebih awal tentang untuk Informasi ini, untuk menghemat waktu wawancara.

Jadinya dengan asumsi bahwa CV akan di baca oleh orang HRD dan kadang-kadang User ikut memutuskan siapa yang harus di pangil dalam interview, maka secara pribadi dan dari pengalaman penulis sebagai HRD dan juga pencari kerja. Penulis selalu mengirim CV yang sangat detail. Bisa 7-8 halaman. Tapi di halaman pertama penulis selalu menyediakan satu ringkasan berisi setengah / satu halaman berisi data contact dan ringkasan pengalaman kerja dan organisasi. (mungkin sejenis executive summary). Halaman-halaman selanjutnya berisi data yang berisi detail tentang tugas yang dilakukan dan data lain yang relevan.

Dari data-data yang ada pada penulis, cara pembuatan resume seperti ini banyak juga diadopsi oleh berbagai Executive search / Institusi Head Hunter di Indonesia.
Isi sebuah CV
CV sebagai representasi diri dan kemampuan anda setidaknya berisi keterangan tentang :
Key Personal Info (nama, alamat, email)
Profile (gambaran singkat tentang diri anda yang menggambarkan aspirasi karir Anda dan dapat membuat employer berpikir Anda tepat untuk posisi tersebut)
Employment (sejarah singkat pekerjaan terdahulu beserta apa yang anda lakukan. Bagi fresh graduate Anda bisa tulis pekerjaan magang atau proyek-proyek yang anda kerjakan semasa kuliah, ada baiknya mencantumkan pencapaian / prestasi terbaik yang di capai di setiap pekerjaan)
Education and other skills (lulusan apa, pernah training apa saja, keterampilan lain yang dimiliki)
Pengalaman organisasi (organisasi profesi, social kemasyarakatan atau organisasi kampus)
Interests (minat dan hobi)
Additional information (bisa berupa prestasi, karya tulis, beasiswa yang pernah diterima, dll)
References (referensi dari mantan atasan, dosen, tokoh masyarakat, dll)
Saran umum lainnya
Buatlah cv yang berbeda untuk setiap pekerjaan yang dilamar.
Sesuaikanlah kualifikasi yang anda tonjolkan dalam setiap CV dengan persyaratan yang dituntut dalam posisi yang dilamar.
Yakinlah bahwa pembaca CV anda akan mengerti dengan jelas apa-apa yang Anda tulis.
Tekankan pada prestasi Anda dan minimalkan kelemahan ( misal Anda bisa urai lebih dalam sebagai aktivis senat ketimbang IP Anda yang biasa saja).
Print dengan kualitas yang bagus dan jangan fotokopian.
Jangan Lupa buatlah Cover letter yang menarik juga dan kreatif sebagai pengantar CV kita.
Untuk lamaran buat perusahaan-perusahaan besar , pemakaian bahasa Inggris sering menjadi  nilai tambah
Terakhir, jangan pernah berbohong dengan mencantumkan yang tidak anda lakukan atau bukan Anda dalam CV.
Ditunggu komentar dan diskusi rekan-rekan untuk penyempurnaannya
(Penulisan dan tulisan tips & trik ini adalah hasil studi beberapa literature, yang sudah di bandingkan dengan berbagai pengalaman penulis, sebagai professional di HRD dalam perusahaan, sebagai konsultan di perusahaan Executive search / Head Hunter dan sebagai pencari kerja)
Selamat mengejar interview atau seleksi (bukan mencari pekerjaan)