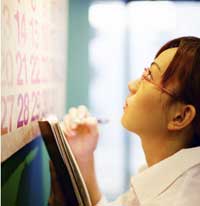 Sistem Evaluasi adalah sistem yang menjadi mutlak dalam proses belajar mengajar. Guru mengevaluasi kemampuan siswa adalah hal yang sudah biasa, tetapi siswa yang menilai pengajaran guru barangkali masih langka di negara kita.
Selama menjadi pengajar part time di sebuah lembaga bahasa yang cukup bonafid dengan cabang yang hampir ada di seluruh dunia, saya sudah 3 kali mendapatkan evaluasi. Saya memulai karir di sana dengan kritikan cara mengajar, disiplin waktu, dll yang kadang-kadang membuat saya ingin berhenti saja. Atasan saya kadang-kadang menempatkan saya di ruang bervideo dan mengamati cara mengajar. Tindakan ini semula menyakitkan tapi lama-lama saya bisa menerimanya dengan lapang dada, kritikannya cukup membangun. Siswa biasanya mengisi lembaran evaluasi yang tidak ditunjukkan kepada pengajar. Hasil total evaluasi dalam bentuk persentase hanya disampaikan kepada atasan secara langsung kepada pengajar. Berdasarkan hasil evaluasi yang diberikan oleh siswa dan atasan, maka jumlah jam dan kepercayaan untuk mengampu kelas akan ditentukan.
Saya juga mengajar di sebuah lembaga bahasa kecil dengan manajer yang sudah seperti bapak sendiri. Semula hanya satu siswa yang saya pegang yang kemudian bertambah menjadi dua, dan selanjutnya semakin bertambah. Saya senang mengajar mereka, dan saya lebih-lebih menjadi senang ketika mereka bersemangat dan senang belajar bahasa Indonesia. Banyak yang menjadi murid saya dalam jangka waktu yang lama. Kadang-kadang saya khawatir mereka menjadi bosan, tapi kelihatannya tidak,sebab mereka minta diajar setiap minggu. Penilaian di lembaga ini tidak berlangsung secara resmi, tetapi manajer biasanya menanyakan secara basa-basi kepada siswa dalam obrolan biasa tentang kelas yang diberikan oleh seorang pengajar.Dari situ biasanya manajer secara obrolan biasa juga menyampaikan kepada pengajar hasil penilaian siswa, misalnya : kelas anda menarik, atau karena banyak percakapan, murid-murid sangat senang. Tetapi kadang-kadang pula langsung memuji dan ujung-ujungnya biasanya mempercayakan setiap ada murid baru.
Di semua universitas di Jepang telah diberlakukan sistem evaluasi terhadap dosen yang dilakukan oleh mahasiswa. Sistem evaluasi ini sangat bermanfaat untuk memperbaiki pengajaran, tetapi kadang-kadang mahasiswa mengisinya dengan malas atau sangat dipengaruhi oleh senang tidaknya dia dengan pelajaran bersangkutan.
Ada 4 poin utama yang dinilai yaitu :
Partisipasi/Kehadiran/Keaktifan siswa dalam kuliah bersangkutan (ada 3 poin yang ditanyakan)
Tentang perkuliahan secara umum (ada 4 poin)
Tentang pengelolaan kelas, misalnya ketepatan waktu, keseriusan guru menegur siswa yang terlambat atau melakukan kejahilan di kelas, dll (ada 7 poin)
Penilaian secara umum (4 poin).
Dan ada kolom khusus untuk memberikan tanggapan bebas kepada dosen pengajar.
Hasil evaluasi seperti ini sangat bermanfaat bagi para pengajar. Saya biasanya memberikan lembaran khusus kepada mahasiswa untuk menulis apa saja tentang kelas yang saya pegang, sebab saya pikir akan lebih mudah mengetahui keinginan siswa dalam bentuk uraian daripada sekedar angka yang berupa persentasi.
Tetapi selain bentuk formal seperti itu, pernyataan langsung mahasiswa misalnya "kuliah Ibu menarik dan membuat saya ingin mengambilnya lagi semester depan" adalah juga bentuk evaluasi yang jujur.
Tulisan asli dari artikel ini dan artikel menarik lainnya sekitar dunia pendidikan dapat juga langsung diakses melalui: Sistem Evaluasi Terhadap Pengajar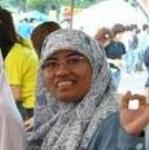 Murni Ramli. Lulusan Institut Pertanian Bogor ini pernah berprofesi sebagai tenaga pendidik di dua sekolah berasrama (boarding school) di Bogor. Dalam kesibukannya saat ini sebagai Kandidat Doctor (PhD) di bidang Manajemen Sekolah di Graduate School of Education and Human Development, Nagoya University, Japan, Beliau sangat aktif menulis tentang informasi dan pandangannya seputar manajemen & dunia pendidikan serta berbagai informasi menarik tentang negeri, budaya dan pandangan orang-orang Jepang. Pemilik blog "Berguru" ini juga sangat menyenangi dunia Penelitian dan Pengembangan serta mempelajari berbagai bahasa sehingga bisa menguasainya dengan cukup baik, di antaranya: Bahasa Inggris, Jepang, Arab, Jawa, Bugis dan sedikit Bahasa Sunda.
.