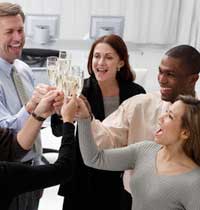 Penelitian ini dilakukan dengan tujuan untuk mencari jawaban mengenai Makna Bekerja, pola-nya serta bagaimana pengaruh dari pemahaman mengenai hakekat bekerja ini terhadap Pelibatan Kerja seseorang. Penelitian berhasil menjaring 307 responden yakni karyawan di lini manajerial dan lini nonmanajerial dari salah satu Badan Usaha Milik Negara, yang bergerak di bidang Industri Konstruksi dan Manufaktur.
Makna bekerja: studi tentang makna bekerja dan hubungan antara makna bekerja dengan keterlibatan kerja pada karyawan perusahaan industri konstruksi dan manufaktur milik negara

Banyaknya perbincangan mengenai kondisi tenaga kerja di Indonesia, baik mengenai kualitas, dan terutama menyangkut segi sikap kerjanya, sejauh ini menimbulkan keprihatinan dari berbagai pihak. Apalagi kalau dikaitkan dengan arah kebijakan pemerintah Indonesia, yang secara perlahan membawa negara Indonesia bergeser dari negara Agraris menjadi negara yang berjati diri Industrialistik. Tulang punggung perekonomian Indonesia tidak lagi sepenuhnya digantungkan pada hasil pertanian, namun secara bertahap akan digantikan dengan produk-produk lain di luar pertanian. Kebijakan semacam ini dalam banyak hal akan mempengaruhi infrastrukturnya. Salah satu sektor yang terkena adalah bidang usaha, baik di sektor swasta maupun perusahaan milik negara. Dalam penelitian ini tidak dibicarakan mengenai impak dari hal-hal tadi pada perusahaan swasta. Penekanannya hanya pada perusahaan Negara. Perusahaan negara tersebut dalam pelaksanaannya harus memperlihatkan dua wajah. Di satu sisi bertindak sebagai Public Enterprise, yang dalam pelaksanaannya akan melayani dan mengelola hajat hidup orang banyak. Sementara di sisi yang lain, ia bertindak sebagai Bussiness Enterprise yang harus memikirkan tentang segi profit. Keadaan yang ambivalen ini dalam banyak sisi akan mempengaruhi sikap dan perilaku pekerjanya. Seperti juga dengan bidang kegiatan yang dikelola sebagai tujuan utama perusahaan. Ragam perusahaan ini pun mempunyai pengaruh tertentu pada karyawannya.
Di dalam ragam pekerjanya, mereka terbagi dalam dua kategori, yakni karyawan di lini manajerial dan lini nonmanajerial. Adanya pembagian atau strata jabatan ini diduga membawa pengaruh tertentu pada pemahaman mereka tentang hakekat bekerja serta perilaku kerja mereka. Seperti juga dengan jenis kelamin karyawannya.
Sementara itu perlu dijelaskan bahwa yang dimaksudkan dengan Bekerja disini adalah "suatu kegiatan yang menghasilkan sesuatu yang bernilai bagi orang lain", dan dalam pelaksanaannya mereka harus berafiliasi dengan organisasi kerja yang formal. Terkait dengan batasan ini maka Makna Bekerja itu sendiri pada prinsipnya berkaitan dengan konsep seseorang mengenai hakekat pemahaman bekerja sebagai aktivitas yang menghasilkan sesuatu yang bermanfaat bagi orang lain. Makna Bekerja ini tercermin dalam dimensi-dimensinya yaitu Dimensi Sentralitas Bekerja dalam Kehidupan, Dimensi Norma-Norma Sosial mengenai Bekerja, Dimensi Hasil bekerja yang bernilai, dimensi kepentingan aspek-aspek Bekerja, serta dimensi Peran Bekerja. Sedangkan Pelibatan bekerja sendiri mencerminkan sampai seberapa besar sumber daya psikologis, tenaga dan waktu yang dicurahkan seseorang dalam melaksanakan tugasnya.
Bersumber dari teori mengenai Makna Bekerja yang diperkenalkan oleh The International Research on Meaning of Working (IRMOW), serta teori Pelibatan Kerja dari Kanungo, maka dilakukan penelitian dengan sampel yang berasal dari dua kelompok karyawan yang bekerja pada perusahaan ciri perusahaan negara, atau yang lebih dikenal dengan nama Badan Usaha Milik Negara, yang bergerak di bidang Industri Konstruksi dan Manufaktur.
Dengan menggunakan kuesioner tentang Makna Bekerja dan Pelibatan Kerja, maka penelitian berhasil menjaring 307 responden, dari kedua strata pekerja tadi.
Hasilnya menunjukkan bahwa:
Kedua variabel tadi, yaitu strata jabatan dan Jenis kelamin tidak membawa pengaruh tertentu pada pembentukan pola Makna Bekerja di kalangan karyawan BUMN Industri Konstruksi dan Manufaktur.
Sementara itu dari segi pola Makna Bekerjanya sendiri, terlihat bahwa ada bentuk-bentuk yang berbeda, meski tidak signifikan.
Yang menarik adalah bahwa bagi karyawan di BUMN tersebut, justru dimensi yang mencerminkan bagaimana pemahaman mereka tentang pekerjaan di masa mendatang, ditempatkan sebagai bagian yang kurang penting. Demikian pula halnya dengan dimensi yang memancing tentang 'Work Value' mereka.
Meskipun mereka meletakan hasil bekerja sebagai bagian utama dalam urutan prioritas itu, dimana hal ini juga mencerminkan bahwa mereka masih berorientasi pada diri sendiri dan imbalan yang segera, namun agak terlalu pagi untuk mengatakan bagaimana etik bekerja mereka.
Sementara itu hasil lain menunjukan bahwa ada pengaruh yang signifikan dari Makna Bekerja ini pada pelibatan kerja seseorang. Hasil penelitian ini akan lebih lengkap jika sampel penelitian diperluas ke beberapa badan usaha yang sejenis.
| | |
| --- | --- |
| No. Panggil : | D 00434 |
| Judul : | Makna bekerja: studi tentang makna bekerja dan hubungan antara makna bekerja dengan keterlibatan kerja pada karyawan perusahaan industri konstruksi dan manufaktur milik negara |
| Pengarang : | Andririni Yaktiningsasi |
| Promotor : | Ashar Sunyoto Munandar |
| Penerbitan : | FPsi-UI |
| Program Studi : | Psikologi |
| Tahun : | 1994 |
| Subjek : | Work measurement |
| Kata kunci : | mean of working; employee work involvement; construction industry; manufacture industry; public enterprise; business enterprise; workers |
| Lokasi : | Lantai 4 |
| Abstract English : | |
Link Abstract:
Makna bekerja: studi tentang makna bekerja dan hubungan antara makna bekerja dengan keterlibatan kerja pada karyawan perusahaan industri konstruksi dan manufaktur milik negara
Key Word Pencarian – "Pengaruh"