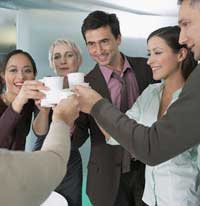 Komitmen, sebuah kata yang sering kita dengar bahkan sering kita ucapkan. Namun sebenarnya apa makna dari komitmen itu sendiri? Dari arti kontekstualnya komitmen berarti memenuhi janji atau bertanggung jawab. Beberapa waktu yang lalu, kami seluruh pejabat structural di tempat saya bekerja membuat pernyataan komitmen bersama untuk melaksanakan sebuag program baru. Peneguhan komitmen tadi kami tuangkan dalam bentuk tanda tangan di sebuah tempat yang disediakan, kemudian kami pajang di tempat dimana kami bias melihatnya setiap waktu. Dengan harapan bahwa dengan melihat tanda tangan kami tersebut, maka janji dan tanggung jawab untuk melaksanakan program tersebut bisa kita wujudkan.
Komitmen, kata itu begitu mempunyai makna yang sangat besar bagi organisasi manapun. Untuk bisa meraih cita-cita memerlukan komitmen semua pelaku dalam organisasi tersebut. Michael amstrong dalam bukunya "managing people" menyatakan bahwa komitmen adalah kecintaan dan kesetiaan. Komitmen terdiri dari tiga komponen:
Penyatuan dengan tujuan dan nilai-nilai perusahaan/organisasi.
Artinya bahwa semua anggota organisasi harus menyatukan tujuan masing-masing individu dengan tujuan perusahaan. Semua anggota organisasi harus menerapkan nilai-nilai yang ada di organisasi tersebut.
Keinginan untuk tetap bersama dan berada di dalam organisasi.
Pasangan suami istri yang menyatakan komitmen bersama berarti berkeinginan untuk tetap bersama dalam keadaan apapun. Demikian juga dalam organisasi, karyawan yang dinyatakan mempunyai komitmen adalah yang ingin tetap berada dlam organisasi tersebut. Kalau masih ada keinginan untuk mencari perusahaan lain, berarti komitmennya diragukan.
Kesediaan untuk bekerja keras atas nama organisasi.
Orang yang mempunyai komitmen dalam organisasi, maka orang tersebut akan bekerja dengan sebaik-baiknya dimanapun dia ditempatkan.
Dalam sebuah buku psikologi manajemen ada kalimat yang menyatakan : Foundation of commitment is integrity, character and empaty. Dalam kalimat tersebut mengandung makna bahwa sebuah komitmen harus timbul dari hati yang paling dalam dari seorang individu, dalam menjalankan kehidupan atau meraih cita-citanya. Dan apabila setiap individu dalam organisasi memiliki suatu komitmen yang besar untuk melakukan yang terbaik bagi pekerjaannya masing-masing, tentunya hal itu merupakan suatu modal besar bagi perusahaan dalam mewujudkan cita-citanya. Sehingga betapa pentingnya sebuah komitmen bagi keberlangsungan hidup sebuah organisasi.
Kontributor: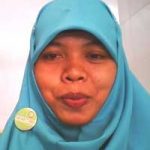 Siti Salimah, S.Si,Apt . Lulusan Fakultas Farmasi Universitas Gadjah Mada ini adalah seorang konsultan manajemen dan tenaga proffesional yang mengabdikan keahliannya di sebuah rumah sakit swasta di Yogyakarta sebagai Apoteker, Melengkapi karir sebagai Apoteker, Titi juga sangat tertarik mempelajari ilmu manajemen khususnya untuk aplikasinya di area rumah sakit dengan dengan mengambil study S2 di Magister Manajemen Rumah Sakit di fakultas Kedokteran UGM
Tak hanya berbekal teori, dia melengkapi skills-nya sebagai konsultan manajemen dengan memiliki sertifikasi di bidang ini sebagai Certified Management System Auditor dari The International Register of Certificated Auditors (IRCA)