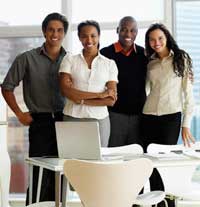 Salah satu unsur dalam manajemen SDM adalah pendayagunaan yaitu menempatkan orang sesuai dengan kompetensinya sehingga bisa bekerja dengan optimal. Istilah lain yang sering digunakan adalah the right man in the right place. Dalam hal ini para manajer harus bisa melihat kemampuan atau kompetensi karyawannya sehingga bisa menempatkan dalam posisi yang pas. Karena hal ini akan berpengaruh terhadap kinerjanya. Apabila karyawan kita tidak punya kompetensi yang sesuai, maka tentu saja hasilkan tidak akan seperti yang kita harapkan. Sebuah hadist mengatakan " Apabila kita menyerahkan sesuatutidak kepada ahlinya, maka tunggulah kehancurannya".
Konsep pendayagunaan ini sangat mudah diucapkan namun tidak mudah untuk diterapkan. Terbukti masih banyak karyawan menyatakan tidak pas dengan tugas yang diberikan, atau atasan yang menilai stafnya tidak bisa bekerja dengan baik. Padahal mungkin saja memang kompetensi dan kemampuannya tidak pas dibidang yang di berikan. Dalam hal ini diperlukan upaya untuk menilai dan menggali kompetensi seseoranghingga memahami nilai-nilai(values) yang ada pada dirinya, kemudian disesuaikan dengan bidang pekerjaan yang tepat buatnya. Keseluruhan tahap ini memerlukan waktu dan kesabaran dan pemahaman pengetahuan yang baik untuk dapat menerapkannya.
Yang masih sering kita temui adalah atasan menganggap staf atau bawahannya tidak bisa melakukan tugas dengan baik, sering melakukan kesalahan, tidak sesuai dengan apa yang diperintahkan dan menganggap karyawan ini prestasinya jelek. Padahal dari konsep pendayagunaan tadi, kita perlu menilai, mengevaluasi apakah karakter dia, kompetensi dan kemampuannya sesuai atau cocokdengan pekerjaannya. Kadang atasan membandingkan prestasi karyawan dengan yang lainnya tanpa menilai lebih dalam lagi. Sebagai atasan/pimpinan kita juga harus melihat karyawan kita secara pribadi. dari tingkat pendidikan mungkin sama, tetapi bisa jadi ada perbedaan antar yang satu dengan yang lainnya. Menjadi tanggung jawab pimpinan untuk mendayagunakan karyawan tersebut bisa lebih berdaya guna lagi sehingga bisa menghasilkan kinerja yang diinginkan.
Berkaitan dengan hal tersebut sangat diperlukan bagaimana pandangan kita terhadap perbedaan. Ada sebuah kisahyang menarik untuk disimak tentang perbedaan ini. Alkisah ada seorang ayah mempunyai 3 orang anak yang mempunyai karakter yang berbeda. Anak yang pertama mempunyai sifat yang tenang namun kurang peduli. Anak kedua sangat menyenangkan, suka membantu dan penyayang. Anak ketiga anak yang paling menyusahkan, sifatnya tidak sabaran, pemarah dan suka membuat ulah. Dalam kehidupan sehari-hari ulah ketiga anak-anaknya kadang-kadang membuat kesal dan kecewa sang ayah.
Pada suatu hari, anak ketiganya membuat ulah di sekolah sehingga sang ayah dipanggil, Betapa malu dan marah sang ayah. Kekesalannya memuncak dan membuatnya hampir lupa diri. Namun sang ayah berusaha mengendalikan dirinya. Dalam waktu sholatnya dia bawa permasalahannya ini kepada Allah SWT, dan bertanya kenapa dia diberikan tiga anak yang berbeda sifatnya dan kenapa tidak seperti anak yang kedua seperti yang diinginkan sang ayah. Sang ayah pasrah dan memohon bimbingannya agar bisa mendidik anak-anaknya.
Pada suatu hari, sang ayah mendapatkan undangan makan malam di sebuah restoran dari teman kantornya. Saat menikmati berbagai hidangan yang disuguhkan, sang ayah menggunakan sendok, pisau dan garpu. Ketiga benda tersebut digunakan dengan bergantian. Ketika makan spageti, garpulah yang punya banyak peran. Saat makan steak, pisau dan garpulah yang digunakan. Kadang hanya sendok saja yang di gunakan. Sendok, pidau dan garpu, tiga benda ini tiba-tiba mengusik hatinya. Seolah-olah Allah menunjukkan kepadanya akan makna tiga benda yang punya fungsi yang berbeda, tertapi bisa digunakan dan mempunyai peran yang penting dalam sebuah aktivitas makan. Dalam benaknya sang ayah membandingkan dengan ketiga anaknya. Seketika sang ayah tersentak dan mendapat pencerahan. Lalu ia bersyukur dan berdoa " Ya Allah, terimakasih Engkau telah memberikan saya anak-anak yang luar biasa dalam kehidupan ini"
Ya, Allah telah memberikan ketiga karakter yang berbeda dalam diri anak-anaknya. Masing-masing mempunyai kelebihan dan kekurangan ibaratnya ketiga benda tersebut yaitu sendok, garpu dan pisau. Anak pertamanya dia ibartkan dengan sendok, yang dapat dipakai tanpa perlu ada garpu. Namun pada saat tertentu garpu dibutuhkan, ia akan menjadi pasangan yang baik dimeja makan. Sedangkan pisau, yang sangat tajam namun apabila digunakan pada saat yang tepat akan sangat dibutuhkan. Akhirnya sang ayah menyadari, betapa Allah telah memberikan ketiga anak yang luar biasa, tinggal bagaimana sang ayah akan merawat dan tahu kapan menggunakannya. Seperti dia mempunyai sendok, garpu dan pisau. Bukankah tanpa garpu akan sangat sulit menikmati spageti dan apabila tanpa pisau bagaimana kita bisa menikmati steak yang panas di sebuah meja makan. Kini Sang ayah hidup penuh syukur karena menyadari alangkah indahnya mempunyai sesuatu yang berbeda ketimbang mempunyai 3 buah garpu. Karena akan sulit digunakan.
Makna cerita tersebut merupakan refleksi tidak langsung bagaimana kita melihat perbedaan pada awalnya hingga kita menemukan bagaimana perbedaan itu menjadi kekuatan dan lalu kita berkata " Put your right man in the right place". Kita bisa merefleksikannya dalam kehidupan keluarga kita atau di lingkungan kantor kita dengan adanya perbedaan pada karyawan kita. Akan menjadi sebuah kekuatan apabila kita bisa mencari peluang pendayagunaan dari sebuah perbedaan. Apabila kita bisa menilai dan memahami makna kompetensi (sekumpulan sifat, pengetahuan dan ketrampilan yang kita miliki yang membedakan kita dengan yang lain) secara lebih baik dan menempatkannya pada tempat yang sesuai, maka kita bisa mempergunakannyasebagai kekuatan untuk mendapatkan sinergi tanpa merusak makna dari perbedaan itu.
Kontributor: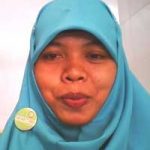 Siti Salimah, S.Si,Apt . Lulusan Fakultas Farmasi Universitas Gadjah Mada ini adalah seorang konsultan manajemen dan tenaga proffesional yang mengabdikan keahliannya di sebuah rumah sakit swasta di Yogyakarta sebagai Apoteker, Melengkapi karir sebagai Apoteker, Titi juga sangat tertarik mempelajari ilmu manajemen khususnya untuk aplikasinya di area rumah sakit dengan dengan mengambil study S2 di Magister Manajemen Rumah Sakit di fakultas Kedokteran UGM
Tak hanya berbekal teori, dia melengkapi skills-nya sebagai konsultan manajemen dengan memiliki sertifikasi di bidang ini sebagai Certified Management System Auditor dari The International Register of Certificated Auditors (IRCA)