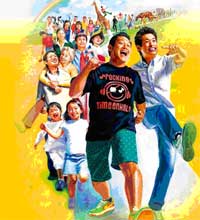 Ada sebuah acara di channel TBS Jepang, menyajikan tentang kegiatan mahasiswa S1 tingkat 3 dan 4 dalam mengamalkan ilmunya. Acara ini berjudul ONE STEP, disponsori oleh Toyota Co, mirip dengan Program Kuliah Kerja Nyata yang mulai dihapuskan di beberapa universitas di Indonesia.
Siaran ini sudah dimulai sejak bulan Juli yang lalu, dan saya menonton Episode ke-19 dan ke-20 yang disiarkan 9 dan 16 November 2008. Empat orang mahasiswa Ashikaga Institute of Technology ditantang untuk menerapkan ilmu yang sudah didapatnya di sebuah pulau kecil di Niigata prefecture, yaitu Pulau Awashima desa Uramura, yang tidak mempunyai sebuah toko elektronik pun, dan tidak ada seorang pun yang mengerti elektronik, sehingga peralatan elektronik mereka teronggok begitu saja selama bertahun-tahun.
Keempat mahasiswa difasilitasi dengan sebuah rumah untuk tinggal di pulau itu selama 2 minggu. Lalu, segera setelah merapikan barang bawaan mereka mengumumkan kepada warga untuk membawa barang elektronik yang rusak ke penginapan mahasiswa dan akan diperbaiki. Maka berdatanganlah warga membawa barang-barangnya dan mahasiswa2 itu mencatat nama barang dan pemiliknya, menderetkan barang-barang tersebut dalam ruangan, banyak juga. Seorang warga yang tidak sanggup membawa barangnya hanya melapor saja, dan meminta kesediaan mereka untuk datang memeriksanya di rumahnya.
Menjadi sangat menantang bagi mahasiswa karena barang-barang tersebut adalah produk lama, yang beberapa di antaranya sudah tidak diproduksi di Jepang, misalnya saja tape recorder produk tahun 70-an, atau TV tahun 80-an. Para mahasiswa kebingungan sebab banyak peralatan yang tidak mereka ketahui cara kerjanya. Dan beberapa prinsip kerja peralatan tidak mereka pahami.
Tapi seperti kata pepatah 真剣だと知恵が出る = shinken dato chie ga deru, yang artinya kalau bersungguh-sungguh pasti pemahaman akan muncul, maka mahasiswa-mahasiswa ini mulai membongkar satu persatu alat dan mulai mempelajari cara kerjanya.
Kesempatan seperti ini barangkali tidak akan mereka dapatkan di bangku kuliah atau di ruang praktek di kampus. Seorang mahasiswa mengaku mempunyai kelemahan dalam berkomunikasi dengan orang lain, apalagi orang tua, tetapi dengan mengikuti program ini, sedikit demi sedikit dia belajar tentang sesuatu yang baru, yaitu berkomunikasi dengan orang yang lebih tua. Seperti diketahui struktur Bahasa Jepang agak ribet karena mempunyai tingkat kesopanan dalam penggunaannya.
Menerima ucapan terima kasih dari penduduk pulau adalah juga sebuah pengalaman berharga. Kebanyakan penduduk berprofesi sebagai nelayan, maka para mahasiswa berkesempatan menikmati sashimi yang lezat sebagai imbalan kerja mereka.
Kegiatan ini barangkali hal biasa bagi kita yang pernah mengalami KKN, tapi upaya Toyota Co. untuk mensponsorinya dan usaha Fuji TV untuk mengemasnya dalam bentuk siaran, adalah sebuah langkah untuk menyajikan tontonan yang membangun.
Artikel tentang pendidikan Jepang ini dan tulisan menarik lainya dapat diakses pada: Program KKN Jepang
Kontributor: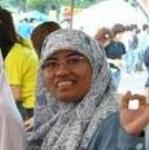 Murni Ramli. Lulusan Institut Pertanian Bogor ini pernah berprofesi sebagai tenaga pendidik di dua sekolah berasrama (boarding school) di Bogor. Dalam kesibukannya saat ini sebagai Kandidat Doctor (PhD) di bidang Manajemen Sekolah di Graduate School of Education and Human Development, Nagoya University, Japan, Beliau sangat aktif menulis tentang informasi dan pandangannya seputar manajemen & dunia pendidikan serta berbagai informasi menarik tentang negeri, budaya dan pandangan orang-orang Jepang. Pemilik blog "Berguru" ini juga sangat menyenangi dunia Penelitian dan Pengembangan serta mempelajari berbagai bahasa sehingga bisa menguasainya engan cukup baik, di antaranya: Bahasa Inggris, Arab, Jawa, Bugis dan sedikit Bahasa Sunda.