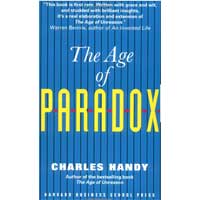 Apakah artinya paradoks ? Menurut kamus Webster, paradoks berarti suatu pernyataan yang kelihatannya kontradiktif, sulit untuk dipercaya, kelihatannya mengada-ada, tetapi bisa jadi benar dalam kejadian sehari-hari. Definisi ini pulalah yang diadopsi oleh Charles Handy dalam bukunya "The Age of Paradox" yang diterbitkan oleh Harvard Business School Press pada tahun 1994. Charles Handy mengamati ternyata banyak sekali kejadian-kejadian di dunia ini, termasuk di dunia bisnis, bersifat paradoks.
Charles Handy mencontohkan sebuah paradoks di dalam produktivitas kerja. Produktivitas berarti hasil kerja yang memuaskan dari sekelompok kecil orang (better work from fewer people). Semakin sedikit orang yang mengerjakannya, dan jika mutu kerjanya sama atau meningkat, maka produktivitas dikatakan meningkat. Untuk apa produktivitas ditingkatkan ? Ternyata untuk menyenangkan pelanggan dan pertumbuhan perusahaan itu sendiri. Di mana letak paradoksnya ? Ternyata semakin tinggi produktivitas, semakin tidak menyenangkan bagi karyawan, karena ada karyawan yang terkena pemutusan hubungan kerja. Produktivitas yang tadinya diyakini mampu memperbaiki perusahaan, ternyata tidak begitu kejadiannya untuk karyawan. Di sinilah letak paradoksnya menurut Charles Handy.
Charles Handy mengungkapkan setidaknya ada sembilan paradoks yang ada di atas dunia ini. Saya tidak akan menguraikan satu per satu paradoks tersebut di sini, karena pada intinya adalah, ada suatu pertentangan antara yang diharapkan dengan apa yang terjadi. Salah satu contoh lainnya yang menarik adalah paradoks waktu (the paradox of time). Mengapa orang bekerja ? Supaya mendapatkan penghasilan dan dapat pergi berlibur atau bersenang-senang dengan uangnya tadi. Untuk mendapatkan uang semakin banyak, maka dia bekerja semakin keras. Sayangnya, Tuhan menyediakan waktu hanya 24 jam sehari. Apa jadinya ? Ternyata semakin keras dia bekerja, semakin banyak dia mendapatkan uang, tetapi akhirnya dia tidak punya waktu untuk bersenang-senang. Paradoks bukan ? Ini dipertegas dengan paradoks pekerjaan (the paradox of work), di mana menurut Charles Handy, some people have work and money but too little leisure time, while others have only leisure time but no work and little money. Setujukah Anda ?
Nah, mari kita letakkan konteks paradoks ini untuk perusahaan. Situasi yang serba paradoks memaksa perusahaan untuk bersikap tanggap terhadap perubahan situasi dan fleksibel. Charles Handy berupaya untuk mengajak kita melakukan perbaikan di dalam perusahaan melalui beberapa pemikiran untuk mengatasi kondisi tersebut, yang kelihatannya juga paradoks.
Pertama, if it ain't broke, fix it. Selama ini banyak orang yang percaya don't change the winning team. Artinya, jika suatu perusahaan sudah mencapai kemajuan, maka jangan diutak-atik lagi strategi, sistem, struktur, serta hal-hal lain di dalam perusahaan tersebut. Perbaikan dilakukan apabila telah mencul persoalan. Tetapi Charles Handy berpendapat lain. Dia menyarankan, sebaiknya lakukanlah perbaikan sebelum persoalan itu muncul. Contoh bentuk implementasinya adalah, perbaikilah kompetensi karyawan Anda sebelum muncul persoalan yang menuntut kompetensi tersebut di dalam perusahaan, karena perbaikan pada saat muncul persoalan adalah suatu keterlambatan. Kelihatannya in juga paradoks, tidak ada masalah kok diperbaiki ?
Kedua, Charles Handy menawarkan konsep organisasi berbentuk donat (the doughnut organization). Selama ini banyak pimpinan perusahaan berpikir untuk menahan orang-orang terbaiknya. Misalnya, sebuah perusahaan konsultan manajemen berupaya untuk menahan konsultan terbaiknya di bidang business process reengineering. Tetapi pada kenyataannya, proyek konsultansi di bidang ini sangat jarang. Apa yang akan dilakukan oleh si konsultan business process reengineering jika proyeknya sedang tidak ada ? Jelas dia tidak produktif sama sekali.
Charles Handy menyarankan, walaupun orang ini adalah seorang konsultan handal, tetapi tidak perlu ditahan sebagai anggota tim inti (core) perusahaan konsultansi tersebut. Biarkanlah dia sebagai orang lepas, alias tidak orang inti perusahaan, walaupun dia orang hebat. Inilah prinsip organisasi berbentuk donat, di mana ada orang-orang inti perusahaan, dan ada pula orang-orang lepas yang hanya berbasis kontraktual temporer. Kelihatannya ini paradoks, konsultan handal kok tidak dibiarkan lepas begitu saja ?
Ketiga, banyak pimpinan perusahaan selama ini berupaya untuk menjaga ketenangan, kenyamanan, serta keharmonisan kerja. Ternyata hal ini tidak selalu membawa perusahaan ke arah produktivitas yang lebih baik. Mengapa demikian ? Sering demi ketenangan, demi kenyaman, dan demi keharmonisan kerja, ide-ide yang sifatnya radikal tidak dibiarkan tumbuh, sehingga perusahaan gagal untuk melakukan berbagai terobosan baru untuk perbaikan. Ini mirip dengan fenomena kodok rebus yang berada dalam comfort zone atau zona kenyamanan. Charles Handy menyarankan kepada perusahaan-perusahaan untuk selalu memikirkan berbagai hal baru (new thinking = reorganized company), yang barangkali dampaknya bisa menganggu zona kenyamanan tadi. Menurut Charles Handy, yang perlu dibangun adalah rasa saling mempercayai (trust), dan bukanlah suatu comfort zone.
Charles Handy juga memberikan perhatian khusus kepada pendidikan walaupun ini di luar konteks bisnis. Banyak orang yang mengirimkan anaknya pergi ke sekolah dengan harapan nanti anaknya memiliki bekal untuk menghadapi kehidupan di masa mendatang. Tetapi pada kenyataannya, sekarang banyak sekolah yang justru memisahkan anak didik dari lingkungannya. Sekolah tidak lagi berperan sebagai wadah supaya anak didik dapat beradaptasi dengan lingkungannya, melainkan mencabut si anak didik dari lingkungannya karena ekslusivitas sekolah tersebut. Charles Handy juga menganggap ini sebagai suatu paradoks. Menurut Charles Handy, saat ini sekolah harus mereformasi dirinya supaya tidak menjadi wadah untuk mencabut anak didik dari lingkungannya, melainkan sebagai wadah untuk mempercepat anak didik mengenali dan beradaptasi dengan lingkungannya.
Membaca pemikiran Charles Handy melalui bukunya "The Age of Paradox" menurut saya sangat inspiratif. Dunia sekarang banyak mengalami kejadian-kejadian paradoks, dan ternyata Charles Handy juga menawarkan solusi yang menurut pemikiran kita seakan-akan juga paradoks. Nah, bingung kan ? Salah Anda sendiri mengapa membacanya. Judul tulisan ini saja "Paradoks". Salam.
Tulisan asli tentang ulasan buku ini dan tulisan menarik lainnya tentang manajemen bisnis dapat juga diakses melalui link: PARADOX
Kontributor: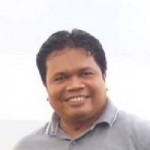 Riri Satria, S. Kom, MM. Selain mejadi blogger yang produktif, Sarjana dari Fakultas Ilmu Komputer UI dan MM bidang manajemen stratejik & internasional dari Sekolah Tinggi Manajemen PPM ini adalah kandidat Doctor dari Program Pasca Sarjana Manajemen dan Bisnis Institut Pertanian Bogor (MB-IPB).
Selama lebih dari 10 tahun kiprahnya di bidang pendidkan dan konsultansi, dia pernah aktif di sebagai konsultan / Dosen di berbagai institusi di antaranya: KPMG (Klynvelt Peat Marwick Goerdeler), Lembaga Manajemen PPM, Program Magister Manajemen – Sekolah Tinggi Manajemen PPM, PT. Daya Makara UI (Makara UI Consulting). Saat ini beliau Menjadi knowledge entrepreneur dengan memimpin sendiri sebuah Lembaga Konsultansi Manajemen di Jakarta.
.